The Art of Courage Lecture
13feb6:30 pmThe Art of Courage LectureVincent V. & Agatha Thursby Lecture Series Presents:6:30 pm
Time

february 13, 2020 6:30pm
Location

William Johnston Building (WJB) G40
Event Details
Lecture:
What is the role of the artist, art therapist, art educator, and arts organizations in promoting and practicing the art of courage? We cannot talk about diversity without considering inequity and addressing it requires creativity and bravery to change rather than curate the status quo. This talk will offer questions and challenges that arise in the attempt to express the art of courage in personal and professional practice.
Thursday, February 13th at 6:30 p.m. in WJB G40 with light refreshments.
Workshop:
Arts advocates from across disciplines are invited to reflect on the art of courage in their own lives and professional practice. The arts, with their capacity to elicit lived experience, contain and direct strong emotion, and stimulates reflection, offer pathways to addressing systemic and internalized oppression.
Friday, February 14th at 9:00 a.m. – 12:00 p.m. in WJB 3003
About the Artist: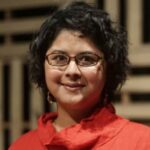 Dr. Nisha Sajnani is the Director of the Program in Drama Therapy and the Theatre & Heath Lab at New York University. She is a founding member of the Critical Pedagogy in the Arts Therapies Think Tank, the World Alliance of Drama Therapy, and the NYU Creative Arts Therapies/Arts in Health Working Group.