FSU NAEA to host Art Journal Workshop on April 20th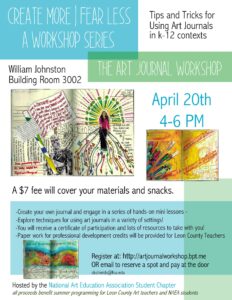 On April 20, 2016, from 4 – 6 p.m., the Florida State student chapter of the National Art Education Association (NAEA) will be hosting an art journal workshop in WJB 3002. The workshop is a part of the "Create More, Fear Less" series that teaches the community tips and tricks in the field of art education. This journal workshop will allow you to explore different techniques to create your own art journal and engage in a series of mini-lessons to use the journal in a variety of settings. Each visitor will receive a certificate of participation and learn resources and information to apply outside of the workshop. The registration fee is $7 and will cover materials and snacks during the workshop. All proceeds will go towards summer programming for Leon County art education teachers and NAEA students.
To register please visit the art journal workshop ticket website or email Sara Scott Shields at skshields@fsu.edu to reserve a spot and pay at the door.