FSU's Art Education Friends and Alumni Reception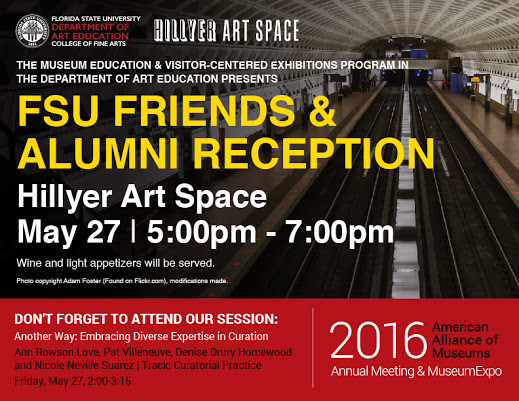 The Museum Education and Visitor-Centered Exhibitions in The Department of Art Education presents "FSU Friends & Alumni Reception" at Hillyer Art Space, Friday May 27th from 5pm-7pm. Wine and light appetizers will be served throughout the event.
The 2016 American Alliance of Museums Annual Meeting & Museum Expo will be having a session prior to the reception; Another way: Embracing Diverse Expertise in Curation from 2pm-3:15pm. Speakers include Ann Rowson Love, Pat Villeneuve, Denise Drury Homewood, and Nicole Neville Suarez.
Don't forget to attend!