Art Education Doctoral Student Chris Omni Presents at 2022 TEDxFSU
Florida State University hosted the annual TEDxFSU conference on Wednesday, April 6, highlighting the innovative talents and ideas of FSU students, faculty and alumni.
Speakers from a wide variety of backgrounds, including advocacy, robotics, medicine, art and research spoke at the free public event, which also featured three musical performances from members of the university community.
Chris Omni, Doctoral candidate in the FSU Department of Art Education was selected as one of the seven presenters.
In Omni's talk 'Granny's Garden: Growing Black Joy', she invites us to ask 'Can Joy be grown? Is it underneath our feet or right in front before our eyes?' Chris Omni guides us to a space where a different type of joy – Black Joy – is cultivated and cherished. She believes that, if we can all imagine that space, we can become 'Black Joy Farmers.'
"My mission is to create and hold spaces of self-restoration and healing. My research focuses on "Blacktivating Joy," an arts-based, digital storytelling experience focused on honoring the legacy of Black women through narrative inquiry and photo-elicitation."
Watch Omni's TEDxFSU talk here, 52 minutes into the session, https://www.youtube.com/watch?v=YIKVaHVwn5Y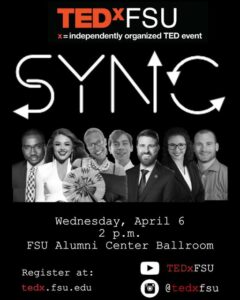 "TEDxFSU is an opportunity to celebrate the innovative, creative and sometimes just plain wild ideas that come out of our great university," said Scott Shamp, TEDxFSU license holder and faculty adviser. "Students, faculty and alumni all work together to spread the ideas that can change all of our lives—and maybe the world."
Student organizer and host Courtney Priede explained "This year's TEDxFSU is dedicated to helping us get aligned, connected, in tune, and…in SYNC."
TEDxFSU is associated with the global nonprofit organization TED and is independently organized almost completely by students within FSU's Center for Leadership & Social Change, College of Fine Arts and Alumni Association.