Five Questions with Pat Villeneuve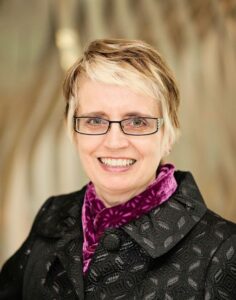 Professor and Director of Arts Administration discusses Fulbright experience, edu-curation and teaching.
Pat Villeneuve is a world-renown scholar who, along with her colleague Ann Rowson Love, developed the theory of "edu-curation," which advocates for a balanced approach between audiences and objects, as well as the development of supported interpretation—a model for visitor-centered exhibitions. The professor and director of arts administration within Florida State University's Department of Art Education is known for her work in advancing visitor-centered curation practices for museums.
After a series of delays due to the COVID-19 pandemic, Villeneuve recently spent several months in Belgium as a Fulbright Scholar, where she collaborated with scholars, museum professionals and arts administrators from organizations including the Catholic University of Leuven, the Flemish Institution for Cultural Heritage, and the Museum on the Stream in Antwerp to promote the use of edu-curation practices in Belgium.
---
Q&A
Q: Why did you choose Belgium for your Fulbright?
A: Belgium is an incredible country for museums and cultural heritage in general. I'm also really fascinated with the country's linguistic and cultural divides, and I've gone there regularly to work with colleagues. Over time, I have identified like-minded individuals there who were willing and able to implement visitor-centered exhibition practices in a European context that tends to be so much more traditional, and I really relished that opportunity.
On a more personal note, my mother's family is from Belgium and I have lived there before as an exchange student at the end of high school. At my last university, I led a study abroad program where we went to Belgium every year.
Q: What are visitor-centered museum practices and why are they important?
A: In traditional museum practices, the focus is on the art object, and a solitary curator who is the content expert is singularly in charge of interpreting the object. This model works well for certain audiences who are well educated about art, but most of the general public is not knowledgeable of art history. I think it's very important to change how we practice as museums to be more relevant and accessible to the public.
Q: What makes FSU's museum education and visitor centered curation program special?
A: Well, it's the only one. Ann Rowson Love and I developed the theory of "edu-curation" and our department is truly the home of edu-curation. After our thirty years of work together towards this, the term is now widely recognized in the literature and used around the world.
Q: Could you share a bit about your approach to teaching?
A: I love teaching, and I love working with my students. I put a lot of thought into my teaching. I'm not a lecturer; I do not believe in the transmission theory of knowledge. So, I try to build my classes full of activities so as to keep my students actively engaged in their own learning. I try to make it challenging, compelling and entertaining, but I talk comparatively little.
Q: What would you say to someone considering a Fulbright?
A: Anyone who is interested in a Fulbright should pursue one. It might not be easy to achieve, and they will need to be prepared to go through multiple rounds of applications, but it is absolutely worth it. This experience, despite the challenges with COVID-19, has been a high point of my career.
I would encourage them to reach out to someone who has been through the process before who can help them review their application. The Office of Faculty Development is also a great help.
---
Villeneuve and Rowson Love are currently working on a book entitled Dimensions of Curation, to be published in 2023. The book outlines eight different types of curation and will feature a number of examples from Villeneuve's work in Belgium.
To learn more about edu-curation at FSU, visit arted.fsu.edu.
---
Watch: Villeneuve Discusses Edu-Curation with Museum Leuven