Art Education Students Visit the Ringling Museum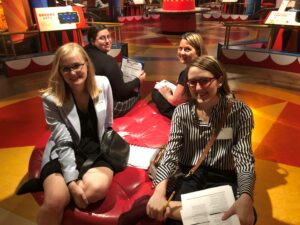 Pat Villeneuve, Professor and Director of Arts Administration in the Department of Art Education, concluded her fall semester sabbatical as a Visiting Fellow in Museum Studies, University of Leicester, where she delivered five lectures to graduate students.
The spring semester brought new adventures for Museum Education and Visitor-Centered Curation and Arts Administration programs. The program's 5th Annual Field Trip to The Ringling included students enrolled in Pat Villeneuve's Art Museum Education and Ann Rowson Love's Visitor-Centered Exhibitions courses for an overnight trip to their partner museum in Sarasota.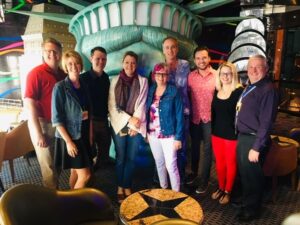 Once there, Associate Director for Academic Programs, David Berry, and Museum Education and Visitor-Centered Curation doctoral student intern, Alexia Lobaina, introduced students to staff including Collections Curator, Sarah Cartwright. Sarah guided the students and faculty through the newly installed permanent collection galleries, which were also the focus of Dr. Rowson Love's Visitor Studies research class last semester. Sarah also gave a behind the scenes tour of the special exhibition, Knights, featuring works from the Stibbert Museum in Florence, Italy. Students will have the opportunity to return to The Ringling next fall for their internships in Museum Education and Curation.
In February, Pat Villeneuve and Ann Rowson Love presented Considering Competing Values in Organizational Practice at the Southeastern Arts Leadership Educators (SALE) conference organized by Theatre Management Assistant Professor, Anthony Rhine.
There were also Arts Administration doctoral students in attendance to present their research. Elise Kieffer presented, "Preparing Students from Non-Traditional Backgrounds to Enter the Field of Arts Administration," and Julia Atkins presented, "Evaluating the Arts Leadership Classroom Through Critical Pedagogy." Arts Administration 2017 graduate, Tony Daniels, presented "Definitions: Community Outreach, Community Service, Community Engagement." The conference took place on a four-day cruise to the Bahamas.
Ann Rowson Love is currently serving on the National Program Committee for the upcoming American Alliance of Museums Annual Meeting in New Orleans this May. She is in the process of judging the National Excellence in Exhibitions Competition for the awards session she will chair for the conference.
---
Student Spotlight
The Department of Art Education congratulates our recent Museum Education & Visitor-Centered Curation MA graduate, Tyler Law (Fall 2018). Tyler spent the fall semester interning in the interpretation department at the Denver Art Museum. Working closely with Senior Interpretation Specialist, Stefania Van Dyke, Tyler worked on a number of visitor studies in preparation for current and upcoming special exhibitions including  Rembrandt: Painter as Printmaker, Dior: From Paris to the World, and Claude Monet: The Truth of Nature. Denver Art Museum is leading the field in innovating interpretive planning with and for their museum visitors.
Reflecting on my experience at the Denver Art Museum, I realized how much I learned. I did not just learn about this field at a top level, but I also learned more about myself. I have realized that the Museum Education and Visitor Centered-Curation program has prepared me to make an impact on this field from a different angle than everyone else.

-Tyler Law